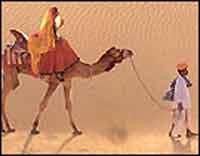 DESERT SAFARI : An innovative adventure in boundless ocean of velvety sand of Rajasthan. Discover either majestically on camel or on camel cart. Set out on your adventure to unfold the blissful pleasure quietly sleeping in the lap of RAJPUTANA NOW "RAJASTHAN". Heralding proudly a prestigious position in the world map of tourism for its intricately woven architecture on gigantic forts, aristocratic palaces, superb traditional garments, delicious dishes, melody of folkore and artistic footwear. VINO DESERT SAFARI offers you all . Situated conviniently in the northwest of Rajasthan, you will find us eagerly waiting to give you a wonderful journey through desert. Choose your route for safari out of many available with us. It is a complete "OFF THE BEATEN TRACK". Adventure embodied with charm, excitement and un-known experience for you. You will be encircled by placid village folks. Melodies spring from wandering minstrels and delicacies prepared by our cooks. Glide down through the desert on CAMEL back mile after mile after mile.....! You cant turn your eyes away from spectacles of distant sand dunes shining brightly in the sun light. You will see occasional passer by's with turbans bigger than their head, meticulously plaited. You cant resist asking them the art of its formation - they would answer you before your query. It is "SAFA," sir or bounty of belles parading in a row, swinging their waist, loaded with half a dozen pitchers filled with water on their head , or small boys waving their hands with friendly greetings. You go on moving counting the footsteps of your camel man. You are exhausted after your day long journey on camel back and you are stopped by villagers, eager to help you. Indulging in pidgin English, they quench your thirst, appease your appetite, wipe out all your exhaustion. It is an unparalleled experience undreamt. You are at home away from home ready for sojourn. You sit cross legged for dinner.Neverthless you are served with what you asked for plus, "SANGRI SAG" a native dish. You are sitting amidst amiable folks with eye catching dresses, particularly women veiled with star studded "ODHNIS " and arms laden with bangles. They would sing folkore accompanied with "DHOL" or melody of BHOPAS amplifying through "RAVANHATHA" and their enthralling footwork. Either sleep in a tent or outside on the bed of sand . Get the warmth of the naked SKY over your head, count the scintilating stars. May be you are perturbed with interminent sounds of barking dogs or peacock screams piercing through balm pitch dark nights. It is an affectionately irritating experience of the night.
LAND VILLAGES AND TOWNS : "MARUSTHALI" as we call this desert country, literally means the region of death. But , on exploration of this area , it can be discovered that inspite of all adversities it is full of life, containing all elements of an independent ecosystem. The land here is distinctly of three type - Plains, huge sand hills (Some bare and others dotted over with vegetation ) and shifting Sand Dunes. It is not like SAHARA and has no OASIS. It has ample of DEEP WELLS, depth of water being at 400 ft. Rains are scarce here, but, a little rain can transform the sand dunes temporarily into green valleys , where "SIWAN" the tall desert grass sprouts out. In October and November "MATIRA" the desert melon is available in plenty and is renowned for its sweetness. The people here are mainly farmers engaged in pastoral activities and cattle rearing. The RAIKAS or REBARI tribes are here for centuries. They have their own heards of camels, sometimes numbering in many hundreds of camels. Other occupations are weaving, carpentry, black & gold smithery, pot making etc. The villages are small having few huts or some mud houses. Villagers need very little from the outside world, as they produce and manufacture for their own needs.
"DHANI" is a cluster of few huts situated on some sand dune separately. It is a kind of farm house and should'nt be confused for a village. For nature lovers, BIKANER offers wild life and vegetation, beautiful desert landscape, sun, sand and camping. There is a varied store of wild life in this area; Antelope, Fox, Jackal, Rabbit, Blue Bull, Desert Cat, Chameleon, Monitor Lizard, Mongoose, Hedgehog, Squirrel etc. Bird Life is exciting and abundant.
"PACHA AAYA" menaing "come again", the villagers would request you when you leave their village. You must reluctantly take your leave. Their hospitable gestures, affection and music will leave an indelible memory. A souvenir of reminiscences of "VINO DESERT SAFARI " indeed a discovery. When the safari is over, the memories of this outstanding experience will remain with you for many years!